The Thompson Automotive Group
"A History of Success"
The simplicity of its name reflected the quiet confidence of its founder. The Try-Me Service Station opened for business in 1929, founded on owner Edmund Thompson's belief that once people tried his outstanding products and services, they would become loyal customers.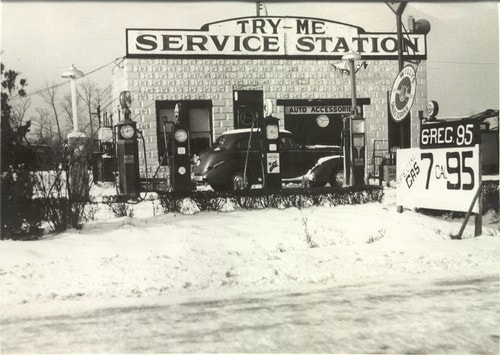 He was right! The Try-Me Service Station prospered despite the onset of the Great Depression. Building on his initial success, Edmund decided to take this same philosophy of customer satisfaction into automotive sales, marking the birth of the Thompson Automotive Group.
Edmund started with used cars, but by 1936 he had become a Willys new car dealer. In 1937, he added the Studebaker line and soon ran out of room. In 1940, he razed his original service station to make way for a larger building.
Fortunately, Edmund never strayed from his original dedication to customer service. When new car production was stopped during World War II, he was able to go back to his roots and keep his company going as a full-service gas station.
The end of the war was a new beginning for Thompson Motor Sales. The company prospered in post-war years, adding Packard to the Thompson lineup in 1954. More importantly, those years marked the entrance of Edmund's sons, Edmund Jr and Frank, into the family business.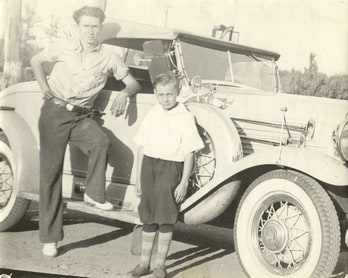 In 1956, the Thompson family demonstrated their commitment to long-range growth by making a bold decision. Realizing that Willys, Studebaker and Packard were obsolete, they dropped all their existing lines in favor of becoming a Mercury dealer. The wisdom of this decision was proven by years of steady growth.
Those years also marked the entrance of a third generation of active involvement in the family business. After graduating from the University of Baltimore in 1965 with a business degree, Edmund Jr's son, Tom, joined with his father and uncle to continue their company's expansion. Having long since outgrown their 50-car facility, the Thompson family built their current 150-car dealership on Merritt Boulevard in 1971. This modern facility resulted in a 400-percent increase in sales over the next two years.
In 1973, another family member joined the Thompson team. After completing a tour of duty in the Air Force, Frank's son, Doug, added his commitment to the family business. And what a business it has become!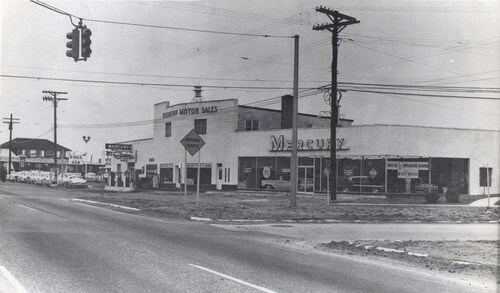 Tom Thompson Sr is the automotive group's current President, and in keeping with the Thompson legacy of business acumen and foresight, they have extended their philosophy of complete customer satisfaction to all other new dealerships: Thompson Mazda on Merritt Boulevard, operated by Doug Thompson; Thompson Chrysler Dodge Jeep Ram in Dundalk, operated by Ron Thompson; Thompson Hyundai also in Dundalk on Merritt Boulevard;  Thompson Toyota Scion and Chrysler Dodge Jeep Ram in Edgewood, operated by Fred Anderson.
Four generations of family success are a source of great pride. The Thompson family has never forgotten that the business success of the future depends on customer satisfaction today. That's the way it's always been and you have the Thompson family's word that it's the way it will always be.
On behalf of every member of the Thompson family:
Thank you for your support in the past and we look forward to serving your automotive needs in the future.
Tom Thompson - President
Doug Thompson - Vice President/Secretary
Ron Thompson - Vice President/Treasurer
Edmund Thompson III - Vice President
Since 1929
Thompson Automotive
"Where you don't just buy a car, you buy a company"
With So Many Happy Drivers in the Greater Dundalk, Pasadena MD, Middle River and Essex, MD Areas, It's Easy to See Why Thompson Mazda is Your Trusted Source for Mazda Vehicles
There are a number of reasons why so many drivers flock to the Thompson Mazda showroom, so we're going to do our best to outline them all for you.
First and foremost, we're renowned in the greater Baltimore, Dundalk, Pasadena MD, Middle River and Essex, MD areas for our superb selection of new Mazda models, plain and simple. Of course, our love for these cars often brings them back to our showroom in a number of ways.
For instance, when it comes time to upgrade, many of our loyal customers return their vehicle to be traded in. These used cars are also offered to our valuable customers, some are even certified with the same guaranteed performance and quality as new ones.
Helping you find your next car is only the beginning of the Thompson Mazda experience, though. From there, our team of financing experts will help you drive home that car you've been eyeing on your terms.
Of course, nobody wants to be forgotten after the purchase of a new or used Mazda. That's why we staff a state-of-the-art auto repair center is highly trained and equipped with the latest Mazda parts.
Interested in utilizing one of our areas of expertise? Come visit us at 900 Merritt Blvd. Baltimore, Maryland for all your automotive needs and an experience that's satisfying, worry-free, and at your convenience.